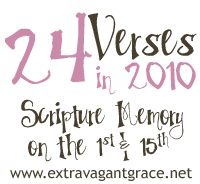 Wow! It's already March! That's 2/12 of 2010! 1/6! Almost 17% of the year is gone already. Am I using every minute of my time in the best way possible? Not always. I need to get back on track & make the most of March!
It's been a little difficult, however, to make the most of my days this week because I've been sentenced to bed rest for an entire week…so against my personality! But I'm following my doctor's orders because his alternative was to go to the hospital! And, honestly, I haven't had the energy to do much of anything anyway. Pneumonia is an ugly thing!
So…I'm sorry I'm a little late on posting my first verse for March. I had 3 different verses I was trying to decide between for this time, but I finally decided on…
Isaiah 40:29-31
"He gives strength to the weary and increases the power of the weak.
Even youths grow tired and weary, and young men stumble and fall;
But those who hope in the Lord will renew their strength.
They will soar on wings like eagles; they will run and not grow weary, they will walk and not be faint."

…because I feel weary & weak. I memorized verse 31 when I was little & it's always been a life verse of mine. I like the two verses leading up to this familiar verse, so I decided to work on this 3-verse passage together this time.
So…what verse would you like to memorize this month? I'd love to hear it! It just might encourage me as well! Thanks,
Jenna
and
Allison
, for posting your verses already!