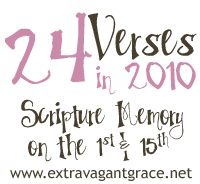 I have had a hard time deciding which verse to claim for the rest of this month...I have so many good ones to choose from! :) The Bible is full of them, you know! Anyway, I have come across this one several times in the last few days through my devotional time, reading other blogs, emails, etc. So I decided maybe this is the one that I need to memorize. It's a familiar verse but I've never really committed it to memory.

John 16:33
I have told you these things, so that in ME you may have peace. In this world you will have trouble. But take heart! I have overcome the world.

So many times I get frustrated with the trials we go through, but Jesus said right here that it's just part of life. It's what will make me stronger and grow closer to Him. So I need to change my outlook on the hard times and start thinking, "What does God want to teach me through this?"

I'm also participating in Beth Moore's "So Long Insecurity" weekly book discussion. This week she asked us to go back to this post and find several verses that speak to us on God's strength and power and victory. It's very powerful and uplifting to read so many scriptures about how God will give us strength. Here are a few of my favorites:
Joshua 1:9
Have I not commanded you? Be strong and courageous. Do not be terrified; do not be discouraged, for the LORD your God will be with you wherever you go.
Psalm 105:4
Look to the LORD and his strength; seek his face always.

Jeremiah 32:17
Ah, Lord GOD! Behold, You have made the heavens and the earth by Your great power and outstretched arm. There is nothing too hard for You.
Exodus 14:14
The Lord will fight for you; you need only to be still.

Ephesians 3:20, 21
Now to Him who is able to do immeasurably more than all we ask or imagine, according to HIS power that is at work within us, to Him be glory in the church and in Christ Jesus throughout all generations for ever & ever Amen!!

Isaiah 33:6, NET
He is my constant source of stability; He abundantly provides safety and great wisdom; He gives all of this to those who fear Him.
Isaiah 41:10
So do not fear, for I am with you; do not be dismayed, for I am your God. I will strengthen you and help you; I will uphold you with my righteous right hand.
What verse are you going to memorize this month? I'd love to hear it!
Drawing closer to Him,
Kim