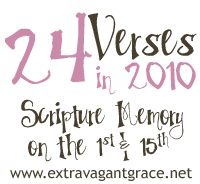 I got the idea for my next verse a few weeks ago from my friend, Kim P. I've read Proverbs so many times but I haven't really thought of how important this little gem is. I'm going to really try to apply this to my life now.
Proverbs 12:16
"A fool shows his annoyance at once,
but a prudent man overlooks an insult."
Ouch! I guess I'm going to have to ignore a lot of my student's comments on an hourly basis! :)
I also wanted to share this neat website I found through our Sunday School literature. It's called the
Purple Bracelet Challenge
and it goes along with one of my memory verses from last year, Philippians 2:14-15. "Do everything without complaining or arguing, so that you may become blameless & pure, children of God without fault in a crooked and depraved generation, in which you shine like stars in the universe."
The challenge is go for 21 days WITHOUT complaining. If you end up complaining, you have to start over with day 1 again until you make it a habit by NOT complaining for 21 days in a row. I wonder if I could actually do this? It will take a LOT of discipline.
What verse are you memorizing this month? I hope to hear from some of you!