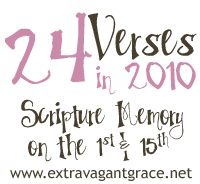 This month I'm continuing to memorize
"The LOVE Chapter" (1 Corinthians 13)
.
I started with verses 1-3 last month.
"If I speak in the tongues of men and angels, but have not love, I am only a resounding gong or a clanging cymbal. If I have the gift of prophecy and can fathom all mysteries and all knowledge, and if I have a faith that can move mountains, but have not love, I am nothing. If I give all possess to the poor and surrender my body to the flames, but have not love, I gain nothing."
--1 Corinthians 13:1-3
I'm going to work on 2 verses at a time now & TRY to really LIVE them out in my life as I hide them in my heart. Please pray for me...some of these attributes are difficult for me. :)
"Love is patient, love is kind. It does not envy, it does not boast, it is not proud. It is not rude, it is not self-seeking, it is not easily angered, it keeps no record of wrongs." --1 Corinthians 13:4-5
What verse are you hiding in your heart this month? I'd love to hear it!