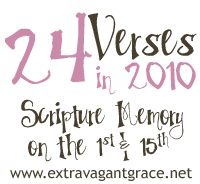 I am still working on memorizing "The Love Chapter" (1 Corinthians 13).

It seems difficult for me to get each attribute in the correct order for some reason. Although I find it easier to memorize the attribute than to actually live it out in my life constantly (especially that "patient" one and the one about "not being easily angered"). How many times do I let things like traffic or weather or slow internet get me "easily angered?"


So this week I'm adding verses 6-7 to my memory bank. For practice and consistency, I'm going to write all 7 verses here.


(verses 1-3)
If I speak with the tongues of men and of angels, but have not love, I am only a resounding gong or a clanging cymbal. If I have the gift of prophecy and can fathom all mysteries and all knowledge, and if I have faith that can move mountains, but have not love, I am nothing. If I give all I possess to the poor and surrender my body to the falmes, but have not love, I gain nothing.

(verses 4-5)
Love is patient, love is kind. It does not envy, it does not boast, it is not proud. It is not rude, it is not self-seeking, it is not easily angered, it keeps no record of wrongs.

(verses 6-7)
Love does not delight in evil but rejoices with the truth. It always protects, always trusts, always hopes, always perseveres.

What verse are you committing to memory this month? I'd love to hear it!