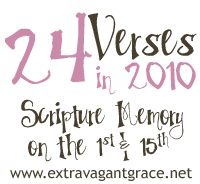 Happy Middle of May! I LOVE the month of May...maybe it's because it's full of holidays (May Day, Mother's Day, my birthday, our wedding anniversary, and Memorial Day) and usually the end of the school year. I also LOVE the spring weather and the beauty of the flowers in bloom.
You've probably heard it said that we use the word "love" so loosely in regard to so many things, but sometimes I forget to make sure that I have a heart full of love and to show that love to those around me. Recently, Beth Moore talked about this during the So Long Insecurity Simulcast. She said if we don't have "love," then nothing else we do really matters. She said that God was telling her to memorize the "Love Chapter" (1 Corinthians 13) again. I'm not really good at restating all that she said, but I remember feeling very convicted about the amount of love in my heart. The verse kept coming to my mind, "For out of the overflow of the heart the mouth speaks." (Matthew 12:34 & Luke 6:45) (I guess that's a pretty important concept since God put the same exact sentence in His Word TWO times!)
So...that brings me to the first of my verses to memorize this time.
1 Corinthians 13:1-3
"If I speak in the tongues of men and of angels, but have not love, I am only a resounding gong or a clanging cymbal. If I have the gift of prophecy and can fathom all mysteries and all knowledge, and if I have a faith that can move mountains, but have not love, I am nothing. If I give all I possess to the poor and surrender my body to the flames, but have not love, I gain nothing."
And here's another one that I've been working on that goes along with the love issue...
Ephesians 4:29
"Do not let any unwholesome talk come out of your mouths, but only what is helpful for building others up according to their needs, that it may benefit those who listen."